Our services go beyond building custom homes.
At Jordan Homes of NC, we are first and foremost a custom home builder dedicated to building beautiful homes for our clients in the Brown Summit, North Carolina area. But we also offer many other services to our clients.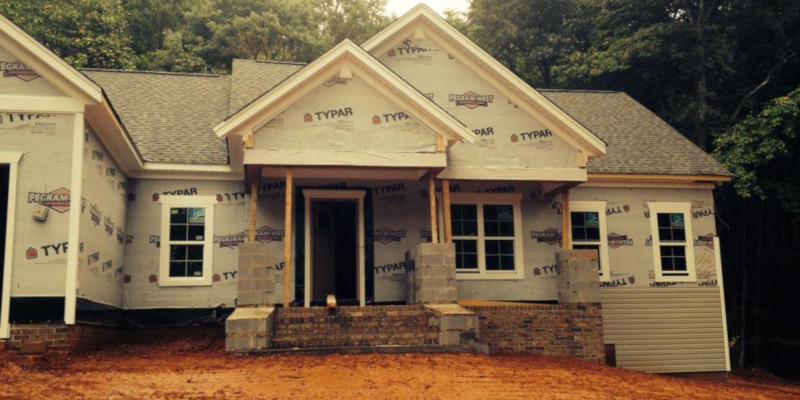 Custom Homes
Looking for a brand-new custom/luxury home? Since 1990, our quality craftsmanship has served us well. Building a home can be a complex task requiring specialized skills. Our team of hand-picked specialists has the skills to build a home that meets your needs. Our tradespeople are selected for their integrity, technical skills, quality, and reliability, not because they're the low bidders. Saving a few dollars on labor is no bargain if the results are unacceptable work. From the most technically qualified framers to the plumbers, our team of professionals will get it done right.
Additions & Expansions
Dreaming of more space? Worried about how to accommodate a growing family? Have an aging parent who will soon come to live with you, or are you just thinking about making your home more livable for you? Don't pack up and move out. At Jordan Homes of NC, we have more than three decades of experience customizing homes to make them work. We can create the changes in your home to blend seamlessly with your current style and enhance its livability and aesthetics. Not only will an addition give your home increased square footage, but it will also provide you and your family with a profusion of benefits. Think of the amount of stress you'll save with a new added bathroom! If your home doesn't work for you now, there's no need to move; simply customize it to fit your needs. We ensure that each step of the process is personalized. It's just like building a custom home!
Renovations
Considering renovating your home? You love your neighborhood and would prefer to stay in your home if you could create the space you want. At Jordan Homes of NC, we will guide you through the build, transforming your home from dated to stunning. The renovation will not only enhance your home aesthetically, but it may also make your home more energy-efficient and easier to maintain. Sustainable and energy-efficient features will enhance its value. Renovating your home can be an exciting project, but it also requires very specific skills and expertise to maximize old spaces through new craftsmanship. Our Jordan Homes of NC team will minimize the challenges and move forward in an organized and professional way, making the changes in an efficient and time-sensitive process.
Kitchen & Bath Remodeling
Upgrade your home's most important spaces. The kitchen is the heart of the home and is not just meant to be beautiful – it must also be functional, providing a safe and comfortable space to prepare meals, entertain, gather for family activities and nurture the family. Your kitchen and bathrooms are two of the rooms where you will reap the highest rewards, especially when you use high-quality materials and expert craftsmanship. Should you decide to sell your home in the future, an upgraded kitchen and/or bathroom are two of the features that many new buyers look for. Better-designed cabinets and hardware, large sinks and islands to gather around enhance the function of a kitchen. A bathroom with hand-held shower heads, double vanities, raised counters and specialty drawers make the room feel larger and luxurious.
We would be happy to talk to you more about the different services we offer in detail and get a better feel for how we can help you complete your project. Contact us at Jordan Homes of NC today to set up a consultation with one of our representatives!
---
Similar Services We Offer: